UFO is a place for revolutionary ideas. A podcast where artists, musicians and web3 builders talk about the future. Hosted by Nick Hollins and produced by Apollo.
Anna Bulbrook is a musician, multi-disciplinary cultural curator, creative producer, and director. She is part of the founding squad at Metalabel and is the Music Curator at TED, and has played violin for artists like Perfume Genius, Beyoncé, Vampire Weekend and Spiritualized.
Yancey Strickler is a writer and entrepreneur. He's the cofounder and director of Metalabel, cofounder of Kickstarter, and cofounder of the artist resource The Creative Independent.
Together with the squad at Metalabel, their ideas are collectively coming into focus with their sixth release, After The Creator Economy. A publication that explores constructive alternatives for the ways we produce, distribute, and monetize creative work online.
In this episode we talk about their first onchain record, explore two new articles by Yancey which are Reinventing The Record and The Onchain Era, and the importance of directly valuing the creative work you love.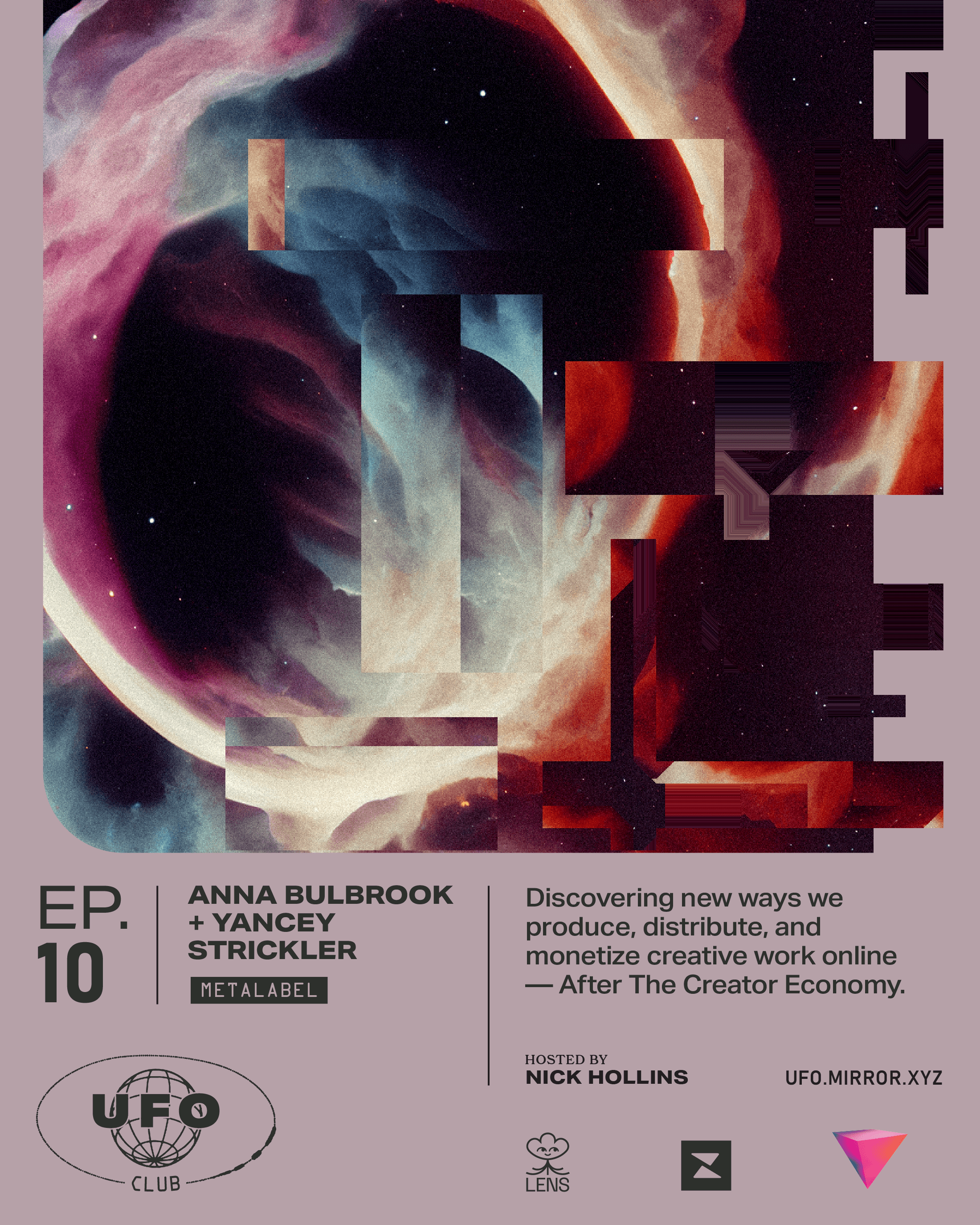 Links
Zerion combines every corner of web3 in a simple and intuitive app for self-custodial humans. Discover the hottest NFT collections, track your DeFi rewards, and vote in DAOs across 10+ chains. Get started today at zerion.io
Lens Protocol is the open-source tech stack for building decentralized social media applications. A permissionless and transparent social graph that is owned by the user. Your followers go with you to whatever application you want to use. Lens is the last social media handle you'll ever need to create. Visit lens.xyz
--
We're starting a club. Collect your UFO Genesis Pass ~ OpenSea