A podcast where artists, musicians and tech creators talk about the future. Hosted by Nick Hollins and produced by Apollo.
Subscribe to UFO
Apple ⚬ Interface ⚬ Lens ⚬ Spotify ⚬ Twitter ⚬ ZORA
Matt Alston and Melissa Zhang are co-founders of Bonfire. The no-code website builder for web3 creators, brands and communities. A place for artists to connect with their fans and design exclusive experiences.
A nexus point for all your releases across onchain media, NFTs and creative works. It looks to be a sign of where things are headed as we evolve out of the web2 social media paradigm. These platforms and algorithms are super demanding of creators' time. The ideal is maximising your control over your own connection to your audience and community.
We talk about the origins of Bonfire and the opportunities to be found in new models for artists on the internet.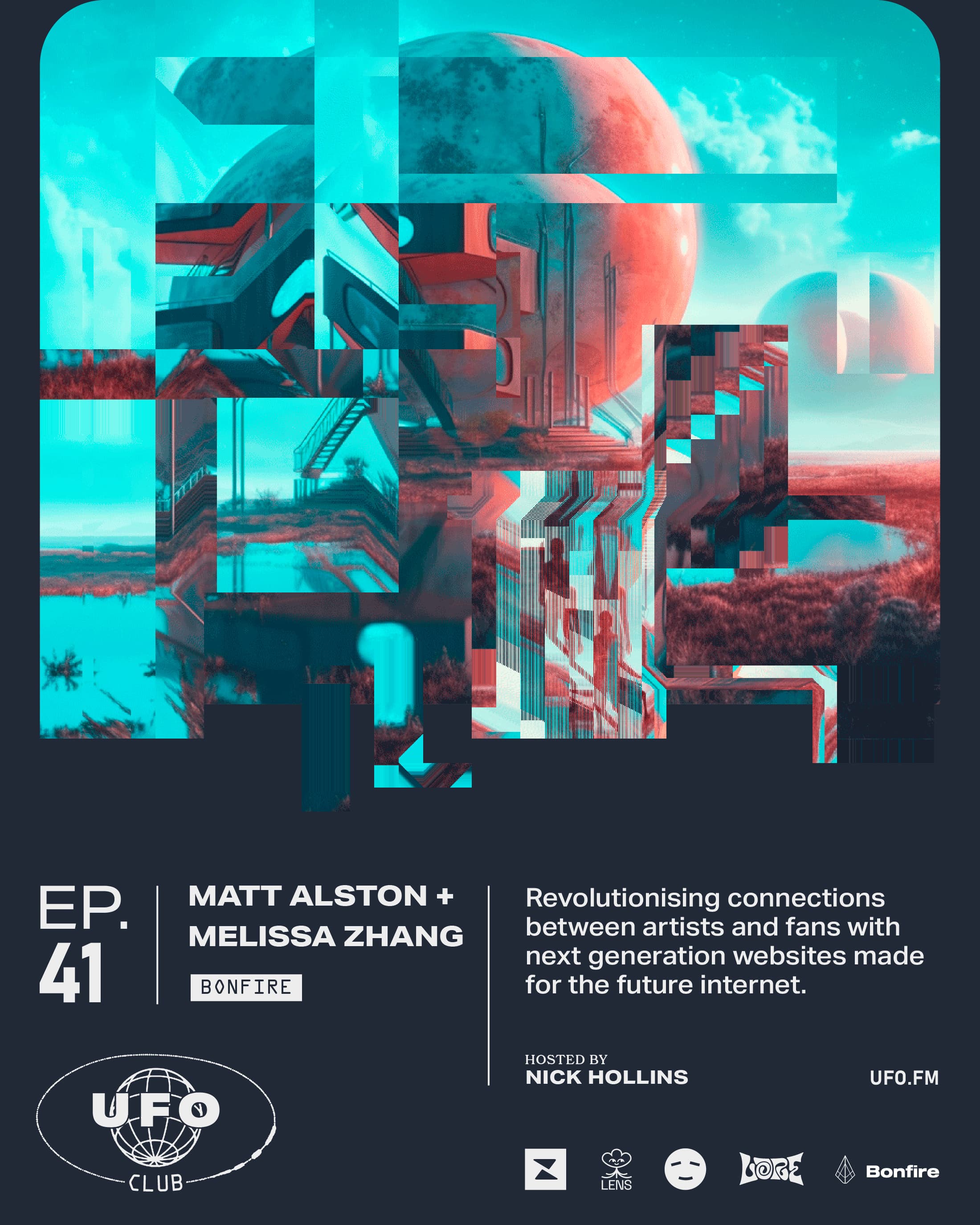 Links
Zerion combines every corner of web3 in a simple and intuitive app for self-custodial humans. Discover the hottest NFT collections, track your DeFi rewards, and vote in DAOs across 10+ chains. Get started today at zerion.io
Interface is a mobile companion for Ethereum travellers. Connect with people and communities you're a part of, stay updated with their onchain footprint through activity feed and notifications, read, watch and listen to onchain media – all in one place. Visit interface.social
Bonfire is the no-code website builder for web3 creators, brands & communities. Design rich custom drop pages, token gated content, and exclusive events and experiences. UFO listeners also get a free 1-month trial to Bonfire Pro. Claim this offer at bonfire.page/ufo
Lore is where communities come onchain. Helping communities of all kinds raise funds onchain, up and down vote decisions and take action towards a collective mission. They are accepting applications from community leads and creators who want to crowdfund initiatives to be on their V2 launch line up. Go to lore.xyz to apply
--
Subscribe to UFO on Lens ⚬ Twitter ⚬ Instagram ⚬ Interface